The classes and workshops are ran by a number of talented artists,
each delivering their specialist skills.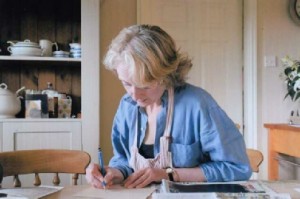 LIZ WELLBY
"I am an artist teacher and maker with a background in sculpture and a particular interest in printmaking. Following the completion of a Fine Arts degree at Loughborough University and subsequent post graduate studies. I returned to the Derbyshire Dales where I have lived and worked for over 25 years. Living and working in Derbyshire is important to me, providing a significant visual response for my work, with the themes of home, countryside and the domestic environment being a particular focus."
Website: lizwellby.co.uk
Instagram: @lizwellby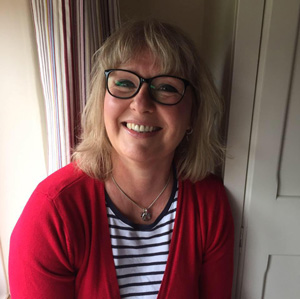 ANNIE HOWE
"Originally from Lancashire, I have lived in Derbyshire for over 32 years. I completed my degree in Fine Art at Portsmouth. Although I trained formally in life drawing, I like to explore a range of materials and subjects related to my love of nature and geology using pastels and watercolour. Later in life I completed my PGCE and taught Design and Technology up to A-Level.
Since 2017 I have been teaching art courses in the community and delivering art for wellbeing in two care homes, I have seen firsthand how important creative arts can be on mental wellbeing."
Website: anniesartderbyshire.com
​Instagram: @anniesartderbyshire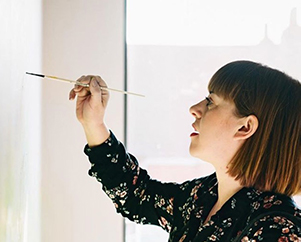 SALLY ANDERSON
"I am a freelance illustrator specialising in Children's book illustration. I love to use ink and a dip pen and work primarily with watercolour. My subjects are usually children and animal characters but really I love to draw ANYTHING! As well as Children's book illustration I draw bespoke character illustrations, greetings cards, mural work as well as teach!
I completed my degree specialising in Illustration. From this I worked part time as a print technician and also freelance as an illustrator. A few years later I began working in Further Education teaching; painting, drawing, life drawing and of course, illustration.
Website: sallyandersonillustration.com
Instagram: @sallygingerillustration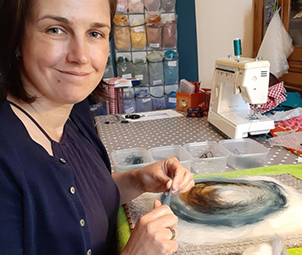 STEPH JANSEN
"I discovered the magic of wet felting by chance in 2011, during a holiday in the Scottish Borders, when I came across the work of Moy Mackay in a local gallery. I fell in love with the fabulous colours, the textural vibrancy and the emotional range she achieved in a material which I had never seen used in such a way before.
Much of my work has been inspired by stunning sunrises, cloudscapes and sunsets, the wool lending itself to recreating the shapes, layers and textures found in our skies. More recently, I have rediscovered a lifelong preoccupation with human traces in our landscape, using the felt to suggest movement and depth of place."
Website: stephjansenfinefelt.co.uk
Instagram: @feltsteph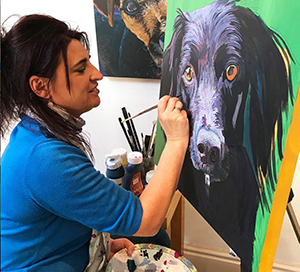 TINA GOTHARD
"I am a teacher, artist, designer and illustrator. I completed a degree in Fashion and Textiles at Loughborough University, before doing a PGCE at Birmingham University. For 30 years I taught Fine Art and Textiles up to A-Level. To inspire others in their creative journey is incredibly fulfilling."
Website: tinaspetportraits.co.uk
Instagram: @tinaspetportraits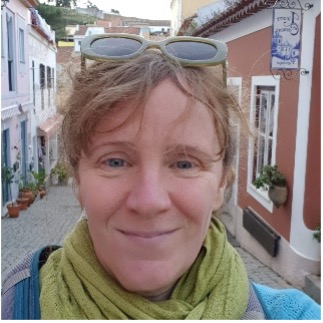 RACHEL COSTIGAN
A lifelong crafter, Rachel has experimented with a wide range of materials, often enjoying mixing different media to create a piece. This also seems to apply to bringing together different strands of her life. During lockdownm she joined together her love of fabric and thread with her fascination for the natural world, weaving together found ibjects from nature to create small scale tapestries.
Instagram: @grasshopperyarns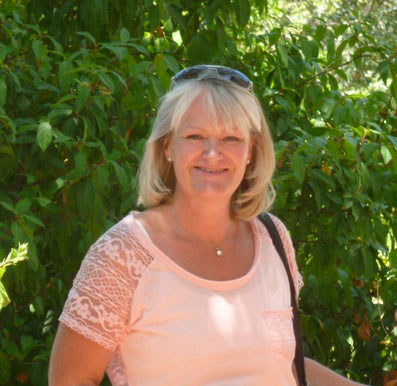 CAROLINE BUCHWALD
"I began my journey into metal embossing back in 2007 where I had some great teachers in Cape Town, South Africa. I fell in love with the versatility of metal and although I learnt the skills using pewter, the same techniques largely apply to copper, brass and aluminium. The beauty of metal sheet is that it is relatively easy to work with and using simple tools, we can create amazing 3-dimensional art."
Website: pewterconcepts.co.uk
Instagram: @pewter_concepts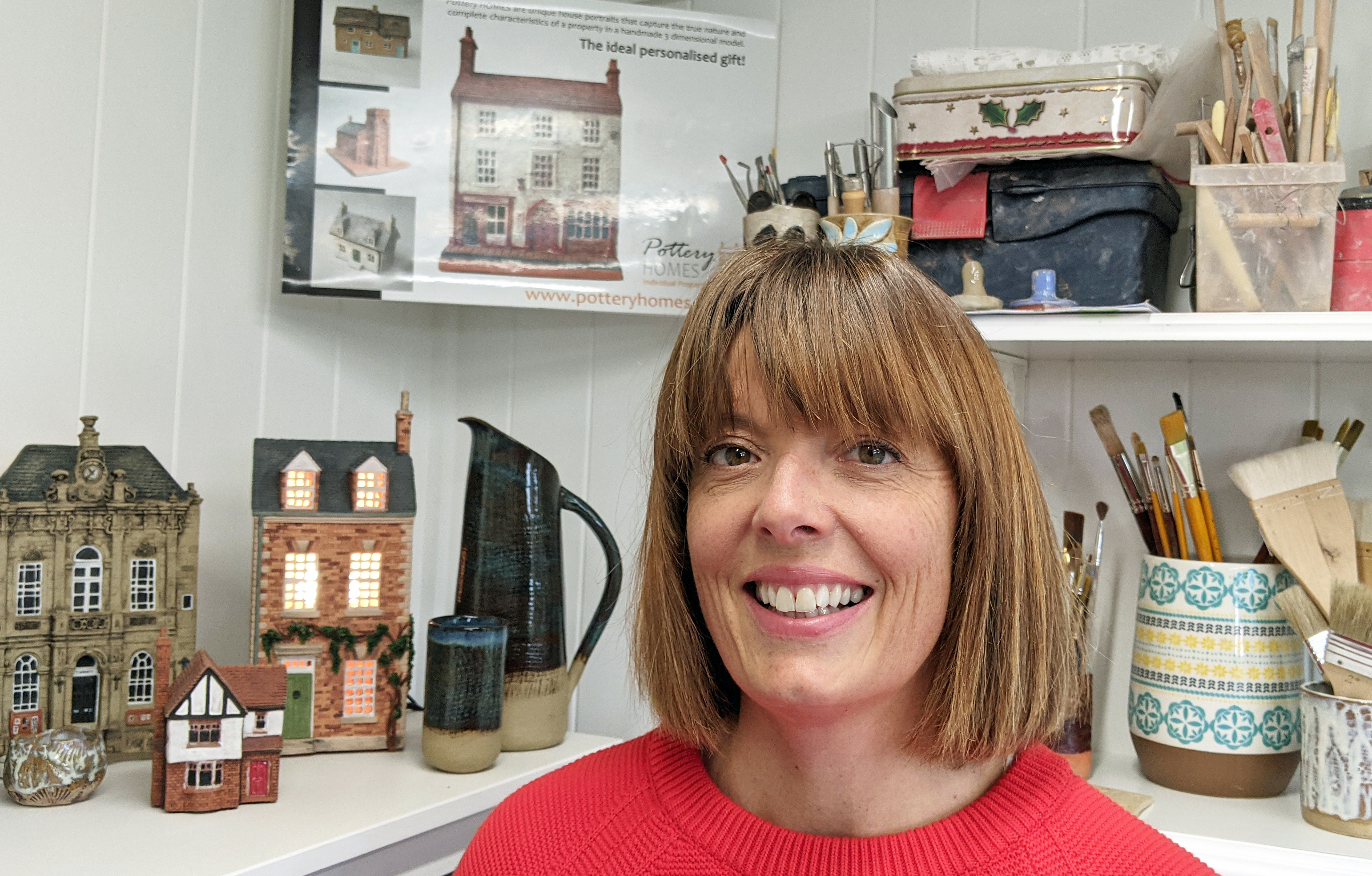 VICKY SCOTCHER
"I have an industrial design background but a love of clay! I ran my own business Pottery Homes from 2011 creating unique house portraits in pottery from my home-based studio near Ashbourne. My pottery has featured in Country Homes & Interiors Magazine, Derbyshire Life Magazine and as judges examples on The Great Pottery Throwdown 2021. I am now looking forward to sharing my passion for pottery with others through workshops at Turner's Art Studio."
Website: potteryhomes.co.uk