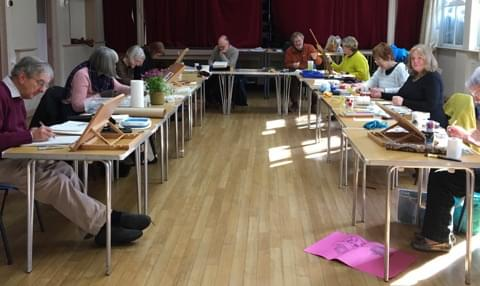 Coronavirus
Please take a look at the courses we will be running in the autumn, we are keeping the groups purposefully small to ensure the safety of the course providers and the attendees.
14th September Update - Please note that to keep in line with the government 'Rule of 6' guidelines, group sizes will be limited to 5 attendees (plus 1 artist tutor).
The weekly courses are running during term times only.
Weekly

Date and Day

Class

Artist

Cost


Wednesday's

AM & PM Sessions

(Term time only)


Art Circle


Annie Howe


FULL


Thursday's

10-12AM

(Term time only)



Beginners Acrylics


Tina Gothard


FULL
Courses
Date and Day

Course

Artist

Cost


Oct 9th Fri

10am - 12 noon



Introduction to Illustration


Sally Anderson

FULL
6-week courses £120.00
Workshops

Date and Day

Workshop 10-4pm

Artist

Cost


Oct 19th Mon



Mosaics


Lin Fletcher


£55


Oct 20th Tues



Lino Cutting and Printing for Beginners



Liz Welby


£55


Oct 27th Tues



Gel Plate Printing


Liz Welby


£55

Oct 28th Wed

Half Day Sessions

Children's Spider Tie Die Class

Tina Gothard

£15

(including T-shirt)

Oct 29th Thur

Half Day Sessions

Children's Spider Tie Die Class

Tina Gothard

£15

(including T-shirt)


Nov 10th Tues



Lino Printmaking


Liz Welby


£55


Nov 16th Mon



Stained Glass Christmas Decorations

(see poster below)


Lin Fletcher


£65


Nov 24th Tues



Mono Printing


Liz Welby


£55