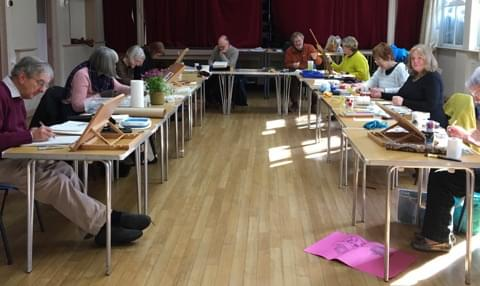 Coronavirus
2nd November Update - Please note that due to the recently announced lockdown to begin on the 5th November, all classes and workshops are postponed until further notice.
N.B. If you are booked on a course, the artist tutor will contact you directly.
14th September Update - Please note that to keep in line with the government 'Rule of 6' guidelines, group sizes will be limited to 5 attendees (plus 1 artist tutor).
The weekly courses run during term times only.
Weekly

Date and Day

Class

Artist

Cost

POSTPONED
Wednesday's

AM & PM Sessions

(Term time only)


Art Circle


Annie Howe


FULL

POSTPONED
Thursday's

10-12AM

(Term time only)



Beginners Acrylics


Tina Gothard


FULL
Courses
Date and Day

Course

Artist

Cost

POSTPONED
Oct 9th Fri

10am - 12 noon



Introduction to Illustration


Sally Anderson

FULL
6-week courses £120.00
Workshops

Date and Day

Workshop 10-4pm

Artist

Cost


Nov 10th Tues

POSTPONED


Lino Printmaking


Liz Wellby


£55


Nov 16th Mon

POSTPONED


Stained Glass Christmas Decorations

(see poster below)


Lin Fletcher


£65


Nov 24th Tues
POSTPONED


Mono Printing


Liz Wellby


£55

Dec 1st Tues

POSTPONED

Fabulously Festive Wire & Paper Birds

Liz Wellby

£55

Dec 7th Mon

POSTPONED

Stained Glass Christmas Decorations

Lin Fletcher

£65

Jan 19th Tues

POSTPONED

Wet Felt Landscape

Steph Jansen

£65